About Us

Over 60 Years of Quality Service
We've been working on Denver and Boulder Volvos for decades—and driving them almost as long. When it comes to the Volvo brand and its inner workings, we're the experts. Which is why our customers come back to Voltek again and again. Plus, we beat dealership prices by as much as 1/3 and we don't try to sell you a bunch of stuff you don't need. But don't take our word for it, see what our customers have to say.
Find out what our customers have to say ›
Our Team
Joe Halbert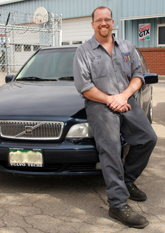 From the kitchen to the shop, Joe started his career as a chef before deciding his real passion was the world of automotive. Since deciding to switch gears, he hasn't looked back and has been working in the Volvo service and repair industry since 1993. Native to Denver, Joe developed his Volvo repair resume working for both local independent Volvo repair shops and Rickenbaugh Volvo dealership in Denver. In 2011, Joe decided to take over the Voltek legacy from its original owner, Tom, and he has been running the shop since. His first set of wheels was a '84 Volvo 240-GL (with 177K miles on it) and he currently drives a Volvo XC-90. In his spare time Joe can be found skiing at the lake with his family and friends, four-wheeling in the mountains or pitching in as a Scouts leader.
Chris Hernon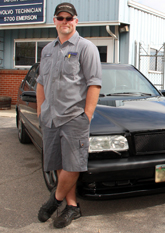 Chris started his career as a helicopter mechanic and crew chief for the U.S. Army National Guard. He worked his way through night school as a Rickenbaugh Volvo detailer while earning his aviation airframe and power plant license. It didn't take long working in the shop before Chris transitioned to working on Volvos, and has since achieved Volvo Master Tech and ASE (Automotive Service Excellence) master tech ratings. After 20 years of working at the dealership, Chris partnered with Joe to take over the Voltek legacy. His first Volvo was an '83 Volvo 245 (known as the Hearse) and now drives a '95 Volvo 850 turbo wagon (known as Hers) and a '96 Volvo 850 R (known as Black Beauty). In his spare time the Denver native enjoys serving as a Scout Master with the Boy Scouts, hitting the lake and skiing/snowboarding with family during the winter. For better of for worse, Chris has two new Volvo drivers in his family as both of his sons recently took up legal driving. 
Justin Reefe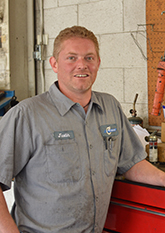 Justin is a Colorado native who has been working on Volvos for almost 20 years. He lives in Denver with his Volvo-driving wife and stepson. After a long history working on the dealership side of the repair business, Justin decided to join the Voltek team. A friend of Chris and Joe's for 15 years and counting, he makes a great addition to the Voltek family. In his spare time, Justin enjoys the outdoors in earnest. His favorite activities are camping, fishing, boating, white water kayaking and snowboarding. He also serves on the volunteer team for Team River Runner, a white water kayaking organization that serves disabled veterans.